2009: KWPN Breeder of the Year
During the National KWPN Mareshow in Ermelo The Family van der Lageweg was hounered as: 'KWPN Breeder of the Year 2009'.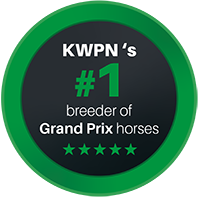 2020: VDL Stud breeder of most KWPN Grand Prix horses
The KWPN has investigated which breeder has bred the most Grand Prix horses since 1990. The VDL Stud came first with no fewer than 43 breeding products that have reached the highest level.

The VDL Stud has a breedingfacility with approximately 90 breeding mares. Through a strict selection over the years the breeding program of the VDL Stud is existing out of excellent breeding mares with the best bloodlines.

From the breeding facility we can offer you at any time directly from our own breeding program or from our client breeders:
* Broodmares with the best bloodlines,
* Foals, Yearlings, 2, 3 years old mares and stallions,
* Young Stallion prospects,
* Young Sporthorse from 3 years old and older.
Performance breeding
Find below a list of homebred approved stallions and Grand Prix horses.
| | | | |
| --- | --- | --- | --- |
| Breeding stallions | | Grand Prix horses | |
| Glennridge | | Ahorn | 1.60 NED |
| Emilion | | Aksai Chin | 1.60 NED |
| Ahorn | | Arc de Triomph | 1.60 MEX |
| Aldato | | Bubalu VDL | 1.60 NED |
| Everest | | Celena VDL | 1.60 NED |
| Goodtimes | | Darosso VDL | 1.60 USA |
| Ultimate | | Davarusa | 1.60 SWE |
| Prestige | | Davidson | 1.60 USA |
| Tenerife | | Daylight VDL | 1.60 CAN |
| Telstar | | Dendence VDL | 1.60 BUL |
| Taloubet | | Dio VDL | 1.60 NED |
| Bordeaux | | Easton VDL | 1.60 AUS |
| Quinta Real | | Emilion | 1.60 UKR |
| Veron | | Eurvette O | 1.60 DEN |
| Arkansas | | Farrel VDL | 1.60 USA |
| VDL Al Cantino | | Glennridge | 1.60 UKR |
| North Gammon | | Gisborne VDL | 1.60 USA |
| For Fashion | | Ishan du Cerisier | 1.60 SUI |
| Great Pleasure VDL | | Montreal VDL | 1.60 NED |
| Pessoa VDL | | Platini VDL | 1.60 USA |
| Montreal VDL | | Pessoa VDL | 1.60 BRA |
| Bubalu VDL | | Randan VDL | 1.60 ARG |
| Azteca VDL | | Rhodos | 1.60 GBR |
| Freeman VDL | | Southwind VDL | 1.60 MEX |
| Falsterbo VDL | | Usday | 1.60 HKG |
| Gisborne VDL | | Tempo la Escondida | 1.60 NED |
| Goodluck VDL | | Valdez VDL | 1.60 BRA |
| Glenfiddich VDL | | Vancouver VDL | 1.60 USA |
| Impressive VDL | | VDL Nantes | 1.60 BRA |
| Landino VDL | | Warland VDL | 1.60 AUT |
| Cornerado VDL | | Well Born Rilexy | 1.60 EGY |
| Diamond Blue VDL | | Waliba VDL | 1.60 RUS |
| | | Wilford VDL | 1.60 RUS |
| | | Wilton John VDL | 1.60 IRL |
| | | Zarisma | 1.60 BRA |
| | | | |
Generations champions
Wiepke van de Lageweg and Helena VDL (Ahorn x Silvano), mother of 3 international jumpers, with daughter Welena VDL (by Chin Chin), Dutch Champion Free jumping and Be Helena VDL (by Chin Chin), selected for the National Foal Championship. (2006)